HOOLIGAN REVENGE
Already on the second day of the Euro 2016, outside the match England vs Russia, violent clashes between supporters (not really being fans) once more provoked fierce confrontations on a game field where nothing is going on right since a long time. Those pretending today to be offended never tried to go any further than just notice or discuss about it in a bar. So many blameworthy precedents overwhelm the UEFA : nazi salute, behaviour and banners inciting racial hatred in Italy and Netherlands, coins slingshot in Great Britain and Russia, monkey screams, insults and boos in Portugal, France and Spain. So many offenses who constrained some countries to create laws to forbid stadium accesses. But the more you fight hooligans, the more you kindle violence, as if football nowadays was damned.
The specialists having a heated debate about the origin of the evil, I tried to find out the basis of the word, which appeared accross the Channel one century ago. Of course the English put the blame and etymology on Ireland and someone called Patrick Hooligan, a drunkard involved in many fights. Or on an irish song, barfly anthem. Or even an irish  book or theater character, cranky and drunk.
Harrap's dictionnary appended the name to a famous Indian tribe, whose big chiefs were Cochise and Geronimo. Hooligan became synonym of Apache, in the most despicable way : gangster, good-for-nothing. A lot of glossaries and definitions quickly amalgamated, as pale-faces brought to Indians the benefits of civilization : war, poverty, forfeiture and elimination in reserves as strongly delimited than a penalty area. Historians attribute to Lord Jeffrey Amherst, commander in chief of the english troops in 1759, the generous delivery of infected bedclothes with variola and measles, fatal for Indians who had no immune for these microbs.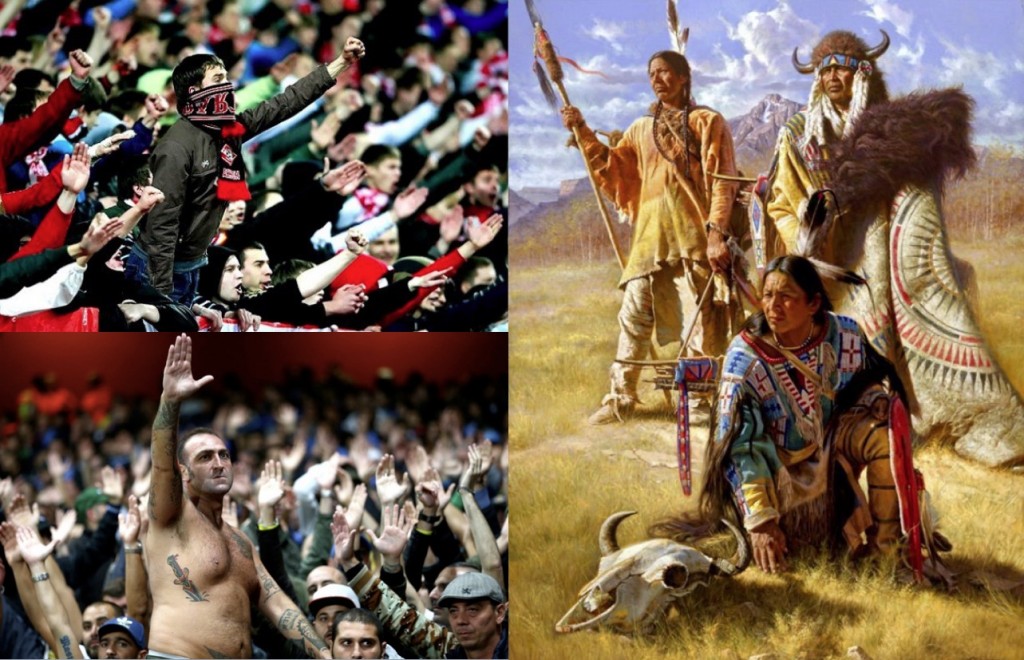 Three centuries later, a strange epidemic embeded in hate and violence attacks the British Isles, the Netherlands, France, Italy, Spain and Porgutal… as many countries that the former Europe launched the attack on the two Americas. And leaded to the genocide of their indian tribes.
Finally, I raise my eyes to heaven, toward horizons ignored by low forehead skinheads, or by the new ''casuals'', with their undetectable sportswear look and their more respectable scalp. My thoughts are so much less hugging the lawn. As a poisoned arrow, I shoot this question to the very pale faces who feel strong only when they are a lot. Because of tarnishing the name of their forefathers by linking it to mediocre cowardly racists, wouldn't the memory of the braves riding the immense prairies be one time too many profaned by these odious cowards only interested in artificial lawns ?
If the great spirit exist, he is vengeful.